hey everyone! sorry i haven't been posting. this summer has been unexpectedly busy for me, and when i'm free i'm honestly too tired to do very much! but it's been a fun summer so far.
so for today i will be reviewing bodyline's summer short sleeved seifuku! i got this for my birthday recently. the model on the website is COSTUME410. they offer it in many different colors, but i chose very pale lilac-y pink (the model is wearing it).
now, usually when i buy anything from bodyline their M is a pretty good choice for me. the measurements for the M on this seifuku looked good to me, but when i got it it was pretty small. the top fit okay, but it was too short-- it's a sort of cropped top that hits around the end of your natural waist, and then a high waisted skirt. but the skirt was very very tight and too short, and though the top wasnt exactly too small it ended too high on me.
i also didn't know about the thread connecting the pleats at the bottom you were supposed to remove, but i was informed of that pretty quickly.
so i went back and ordered a 2L and it finally arrived recently. it fits pretty well! i'd still like the skirt to be a little longer, but if i wear shorts i would feel perfectly comfortable with it.
as you can see, the ratio of where the top ends and the skirt begins is perfect and just as intended. the skirt fits perfectly fine. there are two little spots of elastic in the waistband of the skirt, and it closes with a zipper and a hook.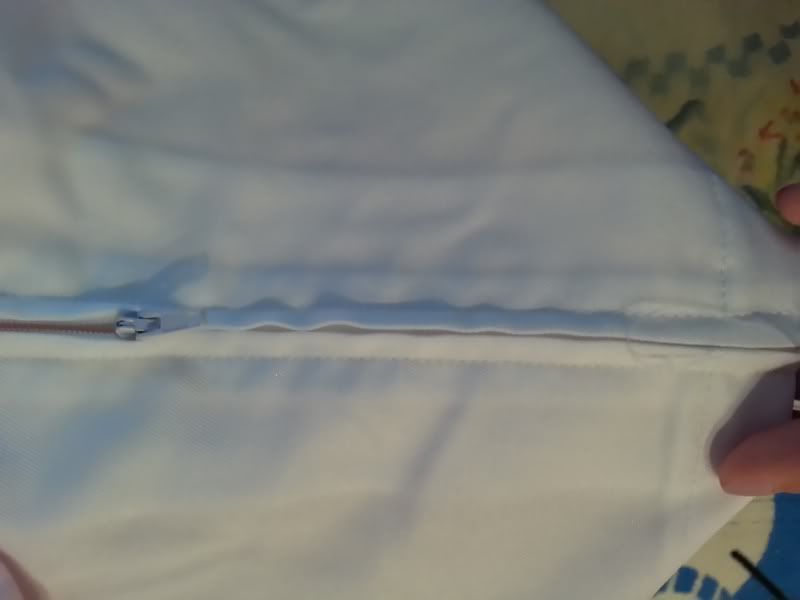 the seifuku top closes with a zipper straight up the front, but it's covered by a seam. this makes it a little hard to zip, but if you're careful it's fine. it also created a few stray threads on the inside after a few times of zipping and unzipping, but i just pulled them off. i don't think it would cause any long-term damage even if that keeps happening.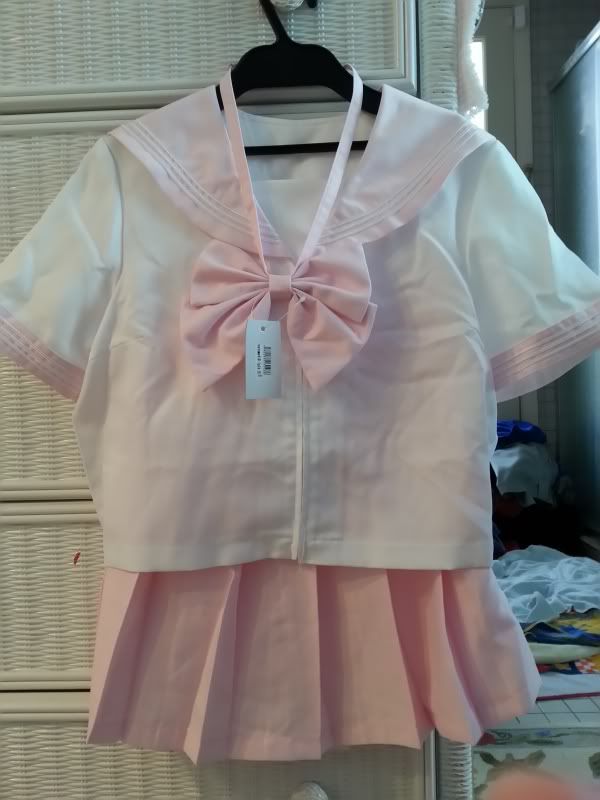 here's the seifuku on the hanger, looking a little wrinkled from wear. the construction is nice and it looks very clean-edged. my favorite element is the bow, as it's so big and adorable!
the material of the white fabric on the top is relatively thick and somewhat rough, but that's (to my knowledge) how actual seifuku are, and i've seen some people complain about this like it's an issue of quality, which it isn't. i think if you were to buy an authentic seifuku from j-list or anywhere, it'd be the same texture. it didn't bother me at all, as i fully expected it.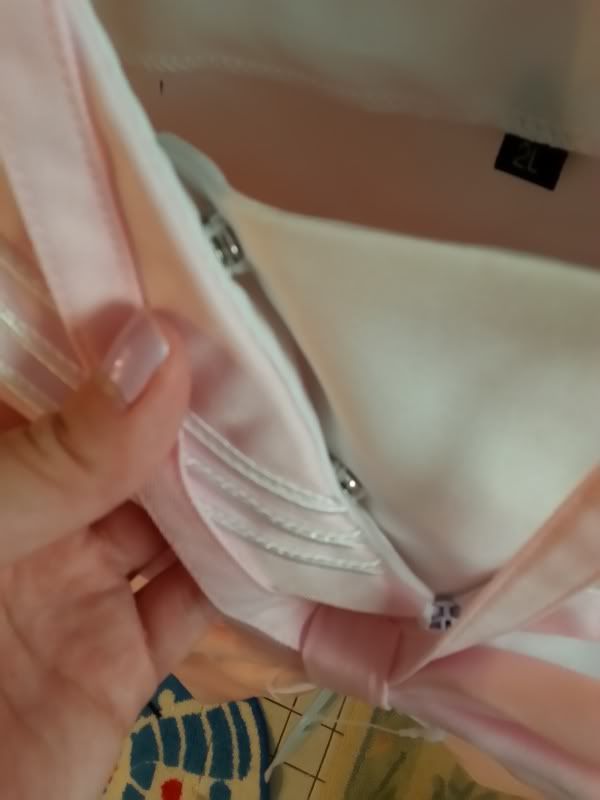 the white middle section of the top is sewn into one side of the collar and snaps closed on the opposite side. the little triangle of fabric is the same as the rest of the white on the top. i always wondered how those little triangles worked, so it's interesting to see that and i'll have to file away the info for cosplay!
the skirt is very very lightweight and almost see-through, but it is opaque. it's perfect for hot weather! i will probably wear this with ankle socks and my light pink converse in the summer, but it would also be great with tights or high socks and cardigans when it's colder.
here is what the bow's strap is comprised of under the collar. the bow is fully independent of the top (as in, it doesn't snap on anywhere.) it's basically a bow sewn onto a bra strap- theres a place to hook it on like a necklace underneath the collar, and an adjustment piece just like any bra strap has to make it longer or shorter so that it fits well. i had to make mine a lot bigger to fit around the collar.
❤REVIEW RECAP❤
quality-
i think the quality is pretty good. i'm not crazy about the zipper making stray threads, but it's not too big of a deal. i did have to buy a size up as measurements on the original size weren't super accurate. 4.5/5
services -
i love bodyline and have never had any problems with them, and i've ordered from them a lot. the second seifuku took a while to arrive and update on the tracking, but that was just the US post's fault. the seifuku didn't come in a heart bag, but i think they just do that for lolita fashion items. 5/5
so, that's it for today! if you've been looking to get this seifuku, i think it's really worth it. it''s adorable and i can't wait to wear it!
don't forget to
like PKC on facebook
for updates!